I tried really hard to make this dish look pretty but it just wasn't happening. I honestly considered not even posting the recipe since the photos make it look like a big bowl of mush. But we all know that looks can be deceiving and that's definitely the case with this one.
I am really into these one-pot skillet meals lately. With this one I literally just threw everything in a pan and hoped for the best. I'm really not even sure how I thought to use cabbage. I must have seen a dish or something that had cabbage in it and thought to myself "oh yea, cabbage!" It's funny how we forget about certain foods because we don't eat them often and then we're like oh yea, I should eat that. Kind of like my recently discovered obsession with pomegranates.
I don't think I've mentioned this yet since I started blogging but I've recently been working towards becoming a Big Sister through the local Big Brothers Big Sisters program here in Charleston. Last night I completed the last training certification needed to be matched with a child. The training was called 'Darkness to Light' and focused on child sexual abuse in our society. There were really astounding statistics such as 1 in 10 children will experience sexual abuse in some form and that most of those children are under the age of 11. The training's purpose is to bring awareness to the issue and to educate us bigs on what to do if they suspect any of this is going on with their little.
I know I took this post in a completely different direction but since this will become a part of my life in the near future I wanted to share my experiences with you. I have mixed feelings of nervousness and anxiousness about becoming a big sister. I know that this little girl that I will be mentoring will be living a completely different life that I did. I know that she will be dealing with things that I cannot relate to. And that's where I find myself getting nervous- I'm afraid that because I can't relate that I will not be able to connect with her. But then I realize that I don't need to relate with her. I need to be there to give her positive support and lend a listening ear whenever possible because that's something that she is lacking in her life. Someone that is there to encourage, listen and support. And that's what I am so excited about.
Anyway, I wanted to bring this up because it will become a part of my life here in the near future and I think it would be good to talk about it every week. If anything it will encourage some of you to either become a big or just find a way in which you can help people, or just one person in my case! That's all I want to do. I will be happy if I can make a positive change in just one persons life that really needs it.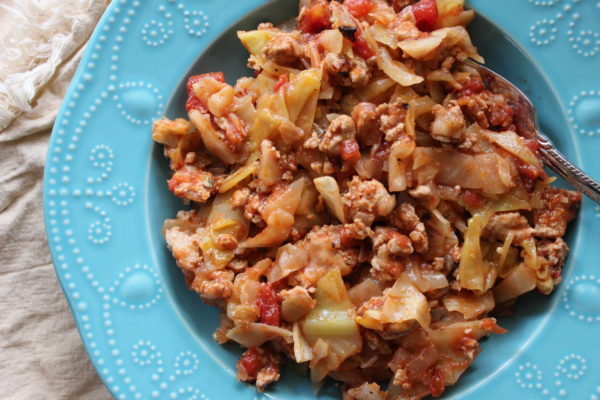 | | |
| --- | --- |
| | |
Heat oil in skillet over medium-high heat

Add the garlic and onion and cook for a few minutes.

Add the ground turkey and cook until browned all the way through

Add the chopped cabbage and cook for about 5-7 minutes, or until cabbage cooks down.

Add the tomatoes and all of the spices. Cook for another 5-10 minutes over medium-low heat.

Serve hot over brown rice or quiona