I realized that lately I've been eating a lot of kale. It probably has something to do with the fact that we buy a huge bag of it from Costco so I basically feel forced to consume it with every meal so we eat it all before it goes bad. But that definitely isn't a bad thing and it's fun to think of ways to incorporate it into my meals. For example, this morning I made a smoothie bowl for breakfast and added kale to my smoothie. For lunch, I made a tossed salad with it and for dinner, you guessed it, this kale almond cheese concoction.
This was one of those completely random recipes that just happened to turn out really good. I took a mental inventory of what we had on hand and what I thought might be good together and this is what came of it. My husband liked it so much that he told me to make it again soon.. that's how I knew it was really good.
I've also recently started cooking with my cast iron skillet more frequently. I've been trying to master really good crispy chicken thighs and tonight I think I finally did it. The last couple times I've managed to burn the skin, which is really easy to do with cast iron since it gets so hot. I kept a close eye on it tonight and it came out perfect. In case you have a cast iron skillet and are wondering how to make the chicken thighs I'll give you a quick overview, it's actually pretty easy you just have to be sure you watch it closely. You'll need 2 pounds bone in, skin on chicken thighs, about a tablespoon of butter (melted), a tablespoon of chopped fresh thyme, 2 cloves minced garlic and some salt and pepper. Mix all of this together and brush it on the top of the chicken thighs. Heat the skillet over medium high heat and add oil and salt to the skillet. Place chicken thighs, top side down and cook for about 10-15 min then flip them over and cook for another 10-15 minutes. Yes there will be lots of sizzling and flying oil so be careful. I've burned myself MANY times. Also just be sure to take the temperature of the chicken and it reaches 165 before removing it from the pan.
While I think I mastered the cast iron chicken I have not yet mastered the cast iron steak.. I think steaks are just something I need to leave to Nathan. I had no idea that cooking a steak on cast iron would cause so much smoke. I think if someone was walking by our house when I was cooking those steaks they definitely would think there was a fire. What's even more concerning is that while our whole downstairs was full of smoke our smoke alarm did not even go off. We were totally prepared for it to.. Nathan had a pan ready to wave in front of it and everything. And not a beep. We should probably look into that. Anyway, nothing beats a really good grilled steak. I was convinced I could replicate it on the skillet but I don't see that happening so I'll just leave the steaks to the grillmaster from now on. We're both happier that way.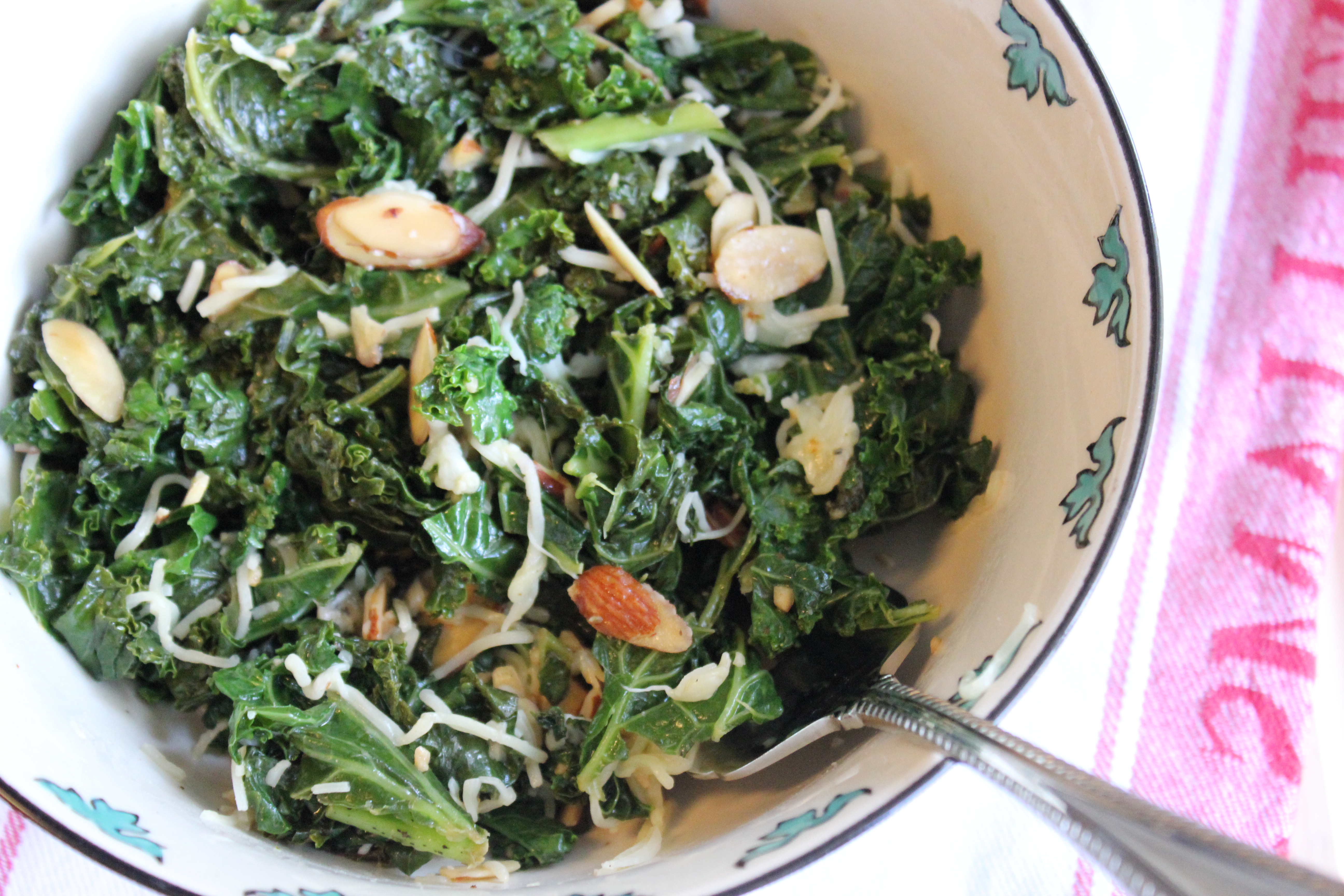 Kale with Toasted Almonds and Italian Cheese
2017-03-02 19:42:37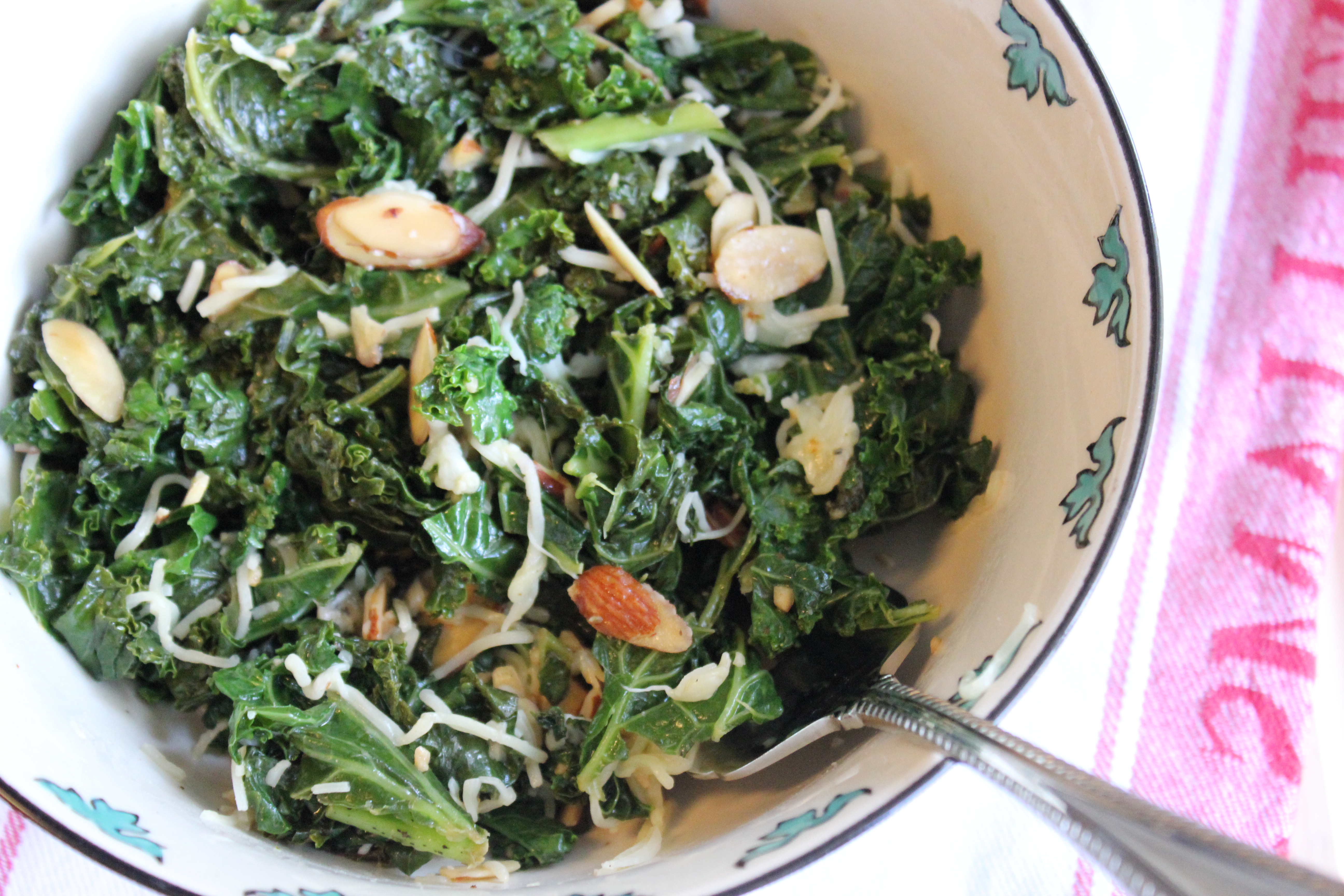 Serves 2
Ingredients
2 tablespoons olive oil
3 cloves garlic, minced
1/4 cup sliced almonds
7 cups kale, chopped and stems removed
1 tablespoon apple cider vinegar
salt and pepper, to taste
1/3 cup shredded Italian blend cheese
Instructions
In a large pan, heat the olive oil over medium heat and add garlic. Cook a few minutes.
Add in the almonds and stir them around to cook a few more minutes.
Add the kale and combine. Add in the apple cider vinegar. Cook for about 5 minutes or until kale starts to wilt.
Add salt and pepper and sprinkle with cheese. Serve immediately.
http://www.afitkitchen.com/