Please tell me I'm not the only one that completely stuffed their face last night.. And when I say stuff my face I mean I could not even control myself. I was like an unsupervised kid in a candy store. I think it's because I've been so good lately and have been really trying to be stricter on myself in what I eat. I told myself that last night would be my cheat meal and that I deserved it. And I took FULL advantage of it. But thats okay. It was back to the grind this morning and I was fully okay with it.
I feel like I've gotten to the point where I don't mind treating myself every now and then and eating whatever I want sometimes but then when the next day rolls around I am so ready to get back to my routine. Also, my body has started to let me know when I eat things it doesn't like. I don't feel like that used to happen… and that might be because I didn't used to eat as 'clean' as I do now. I can remember specifically to a certain day a few months ago where Nathan and I both ate so bad the entire day. It was like the worst we've eaten in a long time and it was every meal that day! I remember this day specifically because of how I felt that night. That morning he made an amazingly good breakfast pizza (that's like his specialty), for lunch we ate pizza AGAIN but at a place called MOD pizza which they basically serve it on a tortilla but still.. pizza two meals in a row! And for dinner we went to mexican restaurant and each had one of those combo plates. You know the ones where they put the cheesy refried beans, rice, burrito.. the whole shabang. Yea it was bad. I remember we looked at each other after dinner with like the most disappointed faces. Like we couldn't believe we just did that to ourselves.
Well I'm here to tell you I don't ever want to have one of those days again. I went home that night after dinner in so much pain. Not like food poisoning pain or anything. Just like my stomach was screaming at me in anger for what I just did to it. When we got home I immediately laid in bed and complained how horrible I felt until I fell asleep. So yea.. try to tell me how you feel isn't correlated to what you eat. I just feel so much better inside and out when I'm eating good. I feel so good that it makes me not want to eat bad! Even though I ate pretty healthy yesterday up until the Superbowl party I didn't feel great when I went to bed. But it was so worth it. Sometimes you just need to eat a cookie, half a cupcake, part of a brownie and a whole lot of chips and queso, you know?
Speaking of food, let's talk about this dish right here. I am so happy I discovered lentil pasta. The specific one I used is made by Tolerant brand and I happened to stumble on it in Marshalls (best place EVER). I loved it so much that if I don't find it there again I'll probably order it through Thrive Market, which is where you can find it as well as Amazon I'm sure. I think Walmart even sells some kind of lentil pasta and I know Whole Foods does too! If you can't find lentil pasta, quinoa pasta works great too! That's also one of my favorites. Usually when I crave pasta I like to make spaghetti squash just because it's even healthier but sometimes I just really crave the actual texture and starch in pasta so that's when I reach for a lentil or quinoa alternative. For this recipe I seriously just used what we had on hand and it turned out awesome!! I highly recommend using an Arrabbiata pasta sauce and the Al Fresco Spicy Jalapeno Chicken Sausage. That is if you like some heat of course, it's not too much though. The spices go together really nicely. The best part about this recipe is that it's so easy to put together and only requires a handful of ingredients.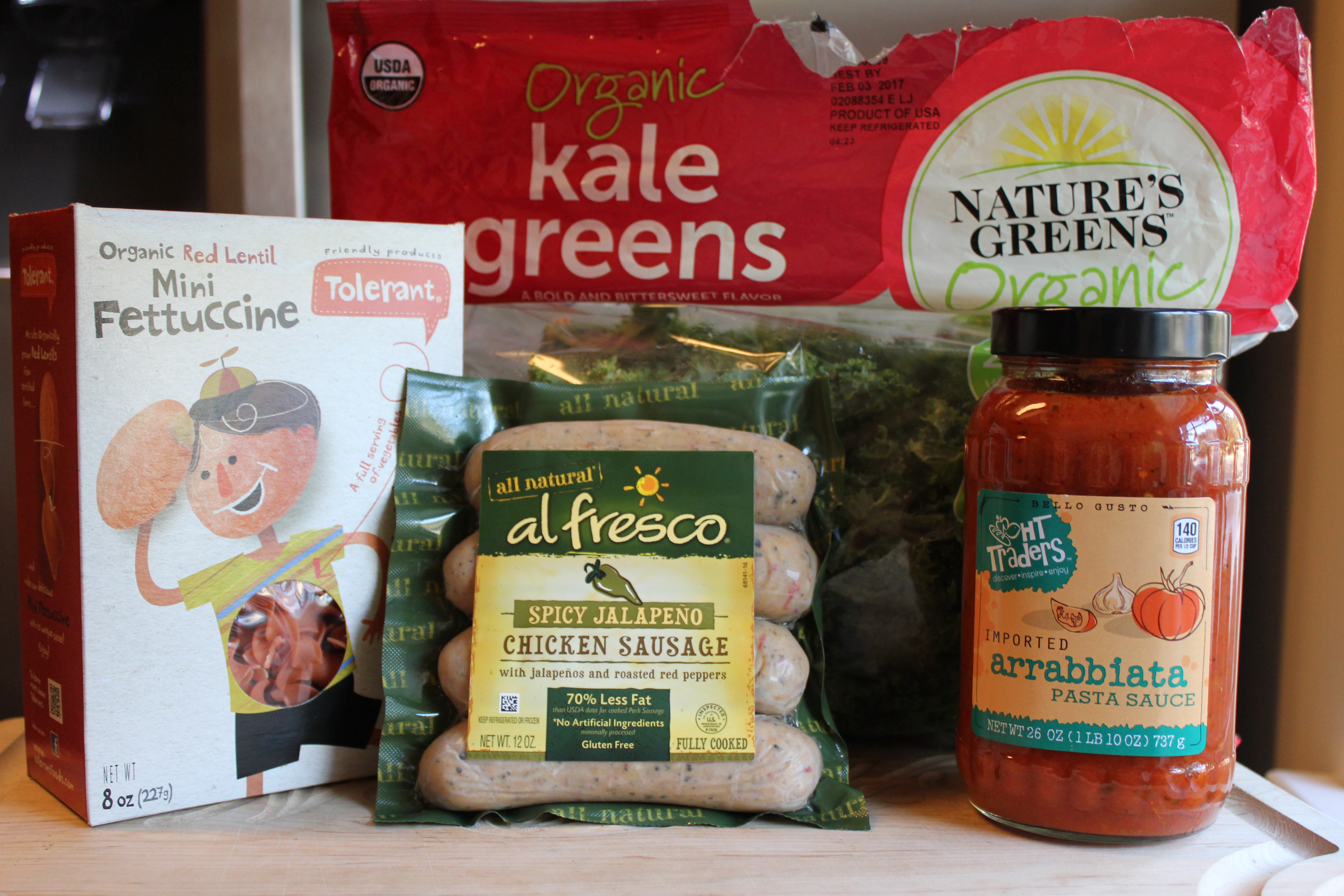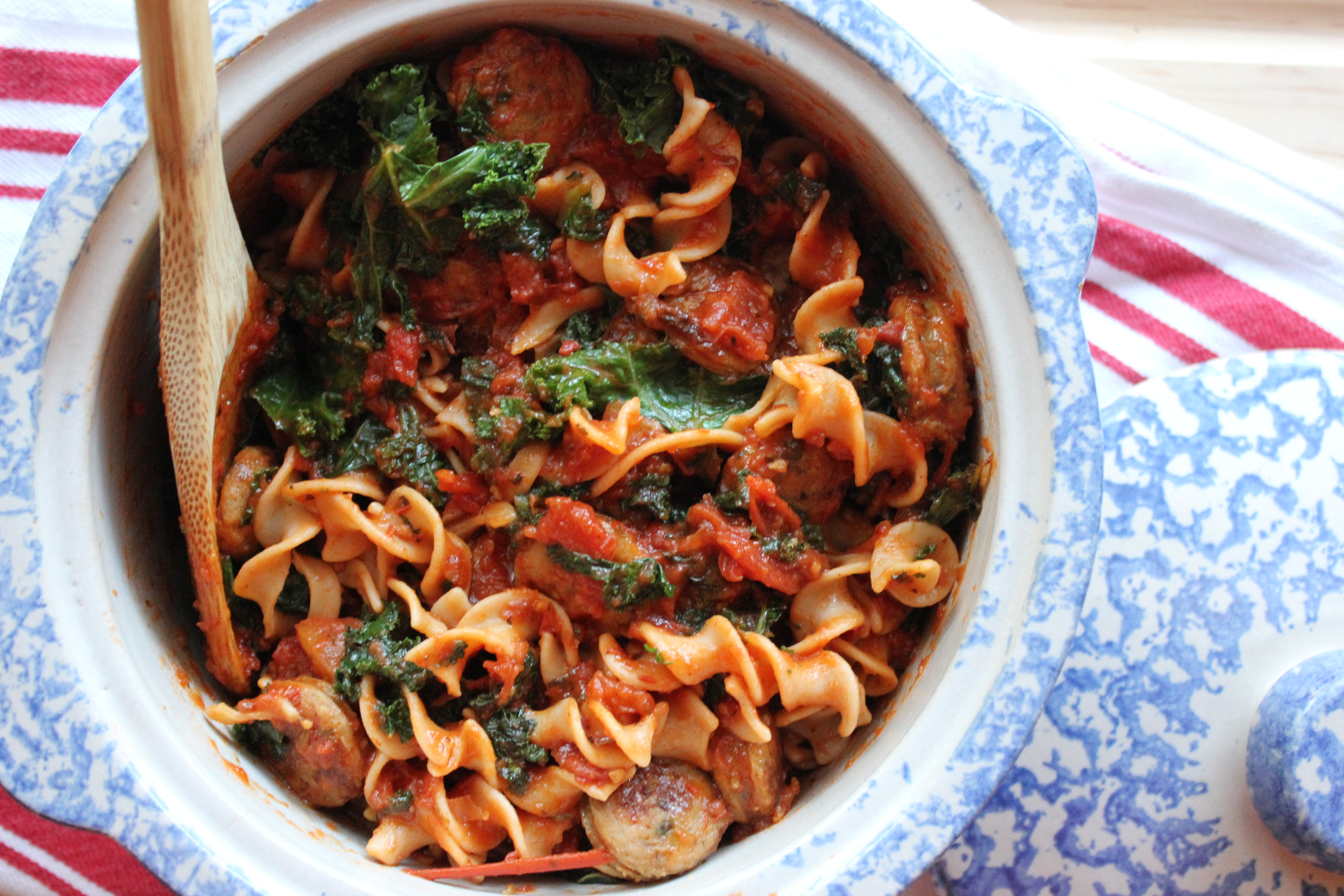 Arrabbiata Lentil Pasta with Kale and Chicken Sausage
2017-02-06 19:12:12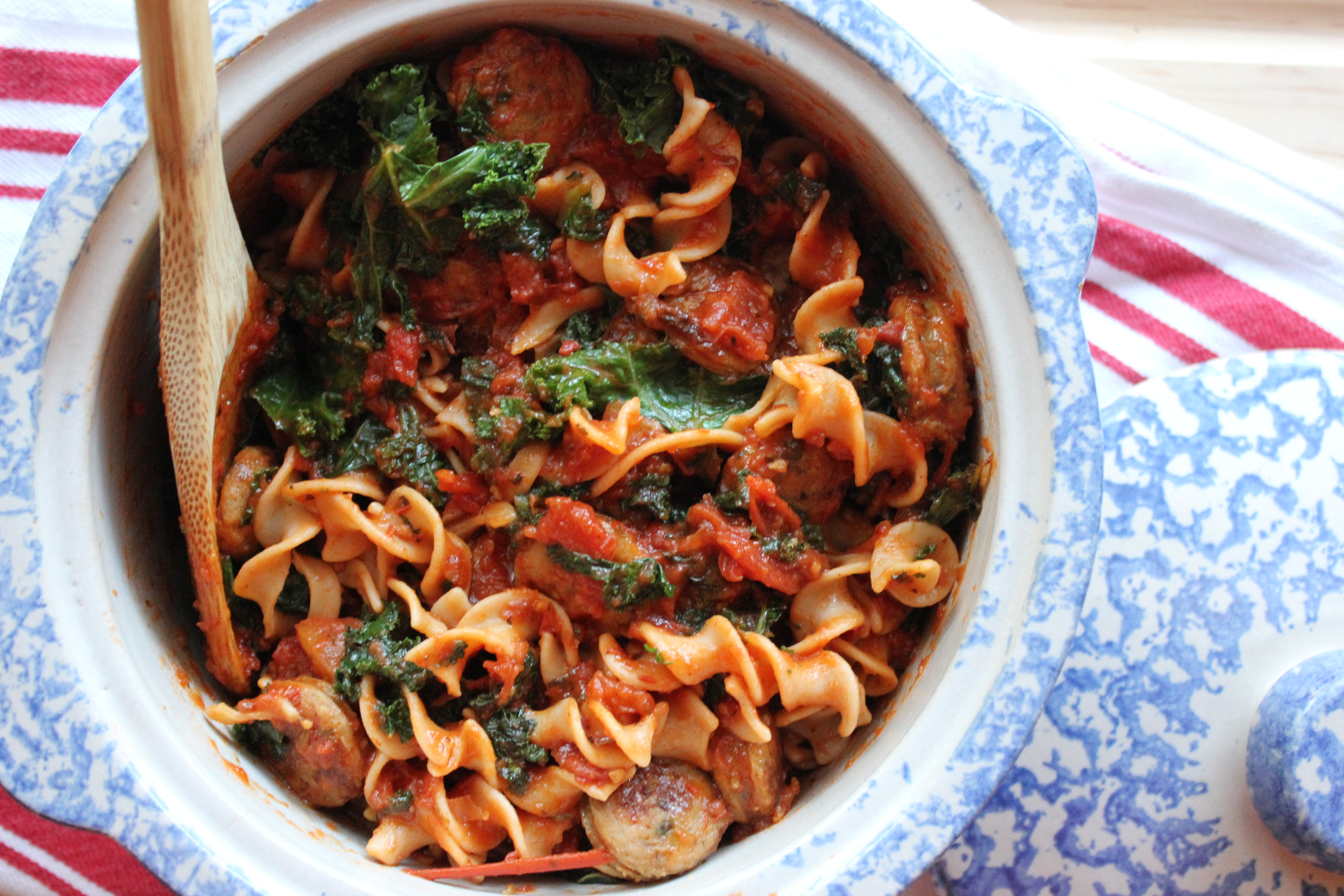 Serves 3
Ingredients
1 box lentil pasta
1 tablespoon olive oil
1/2 teaspoon minced garlic
2 cups Arrabbiata pasta sauce (I used store bought)
1 package fully cooked chicken sausage links (preferably Al Fresco Spicy Jalapeno Chicken Sausage)
2 cups chopped kale
Parmesan cheese (optional for serving)
Instructions
Cook pasta following directions on box.
While pasta is cooking, pour olive oil into large skillet and add garlic. Saute over medium heat for a few minutes.
Slice the chicken sausage and add to the skillet. Turn up heat to medium-high and saute sausage for about 8 minutes.
Add kale to the skillet and then add the pasta sauce. Cook for about 5 more minutes or until heated throughout and kale softens.
Drain pasta and pour into large bowl or pot. Add the sauce/sausage/kale mixture to the pasta and combine. Serve hot with parmesan on top!
Notes
For the pasta you can use fettuccine, rotini or penne. I used Tolerant brand Mini Fettuccine (found the specific brand at Marshalls but you can find lentil pasta other places.. or use quiona pasta)
I used HT Traders (from Harris Teeter) brand Arrabbiata pasta sauce
I bought the Al Fresco Spicy Jalapeno Chicken Sausage from Harris Teeter.
http://www.afitkitchen.com/