If you're like me you are more concerned about what appetizers you'll make for the Superbowl then the actual event itself.. I'll admit it. Now if the Panthers were playing it would be a different story. But they're not so let's talk about these meatballs. It's like everything you love about a hot wing. The spicy buffalo sauce, tangy blue cheese and carrots all in one little bit sized treat! They actually taste like they should be bad for you. That's how good they are. But the best part is there's less than 40 calories in each meatball and they're pretty filling. The most I could eat in one sitting is 4 and I was pretty full after that.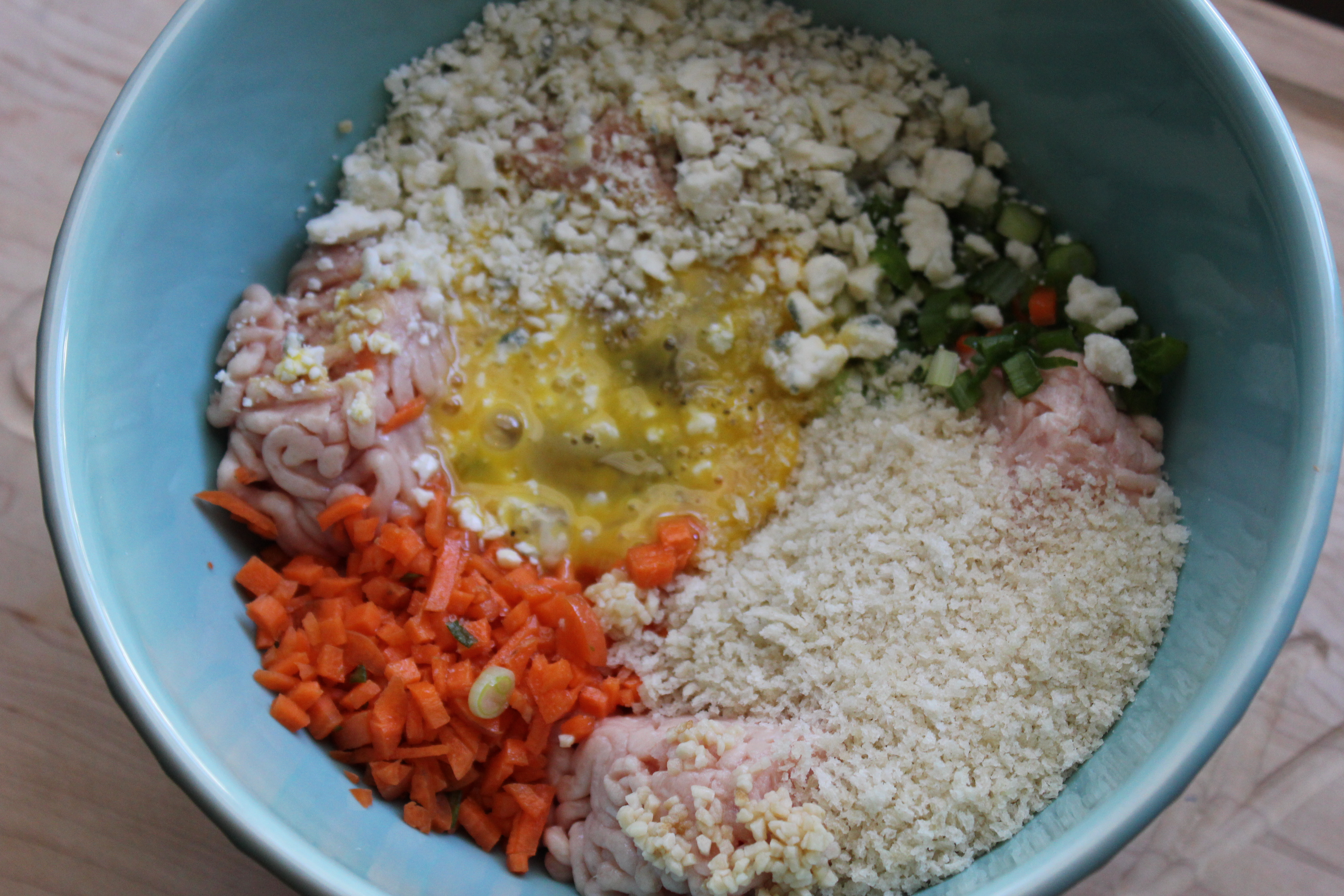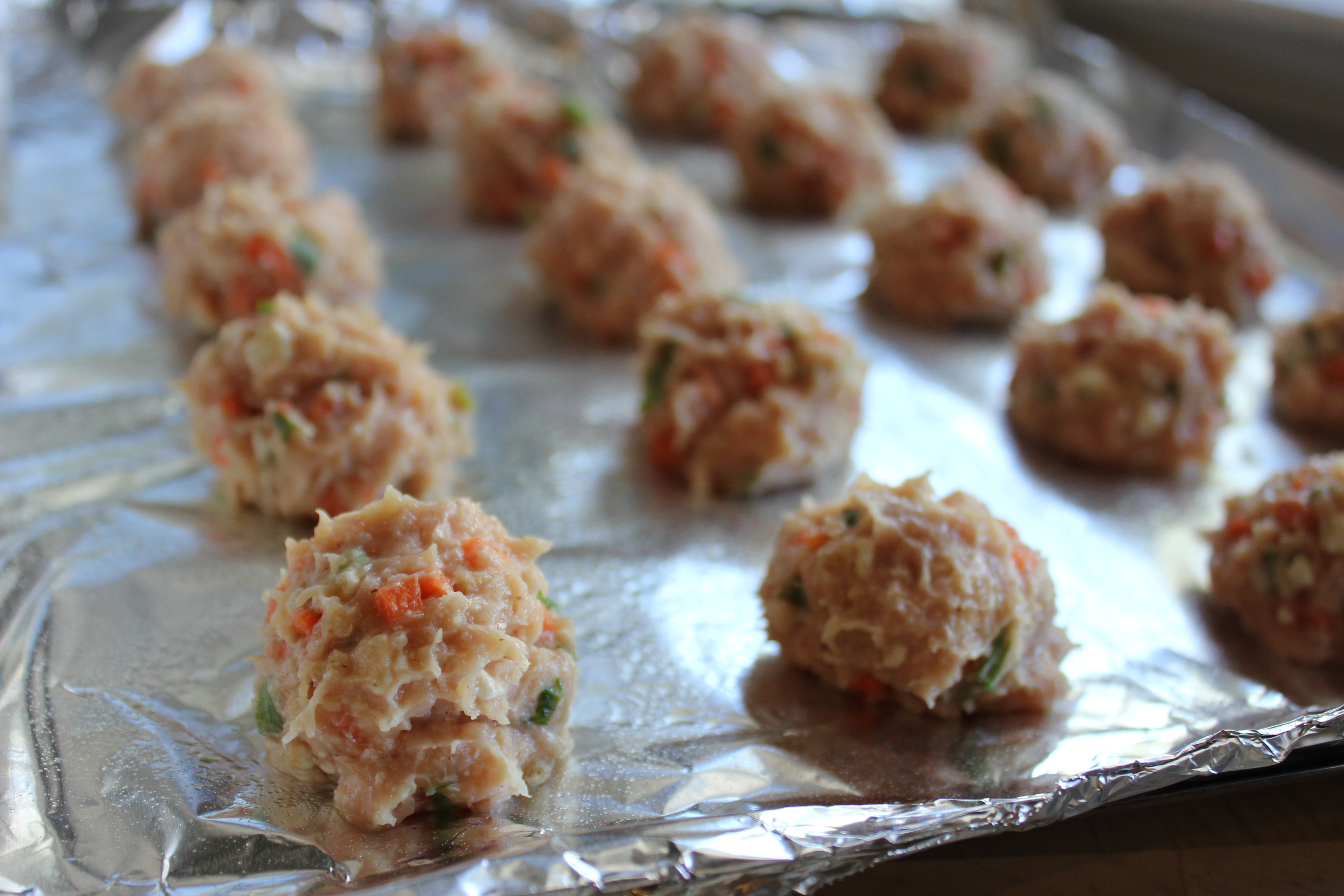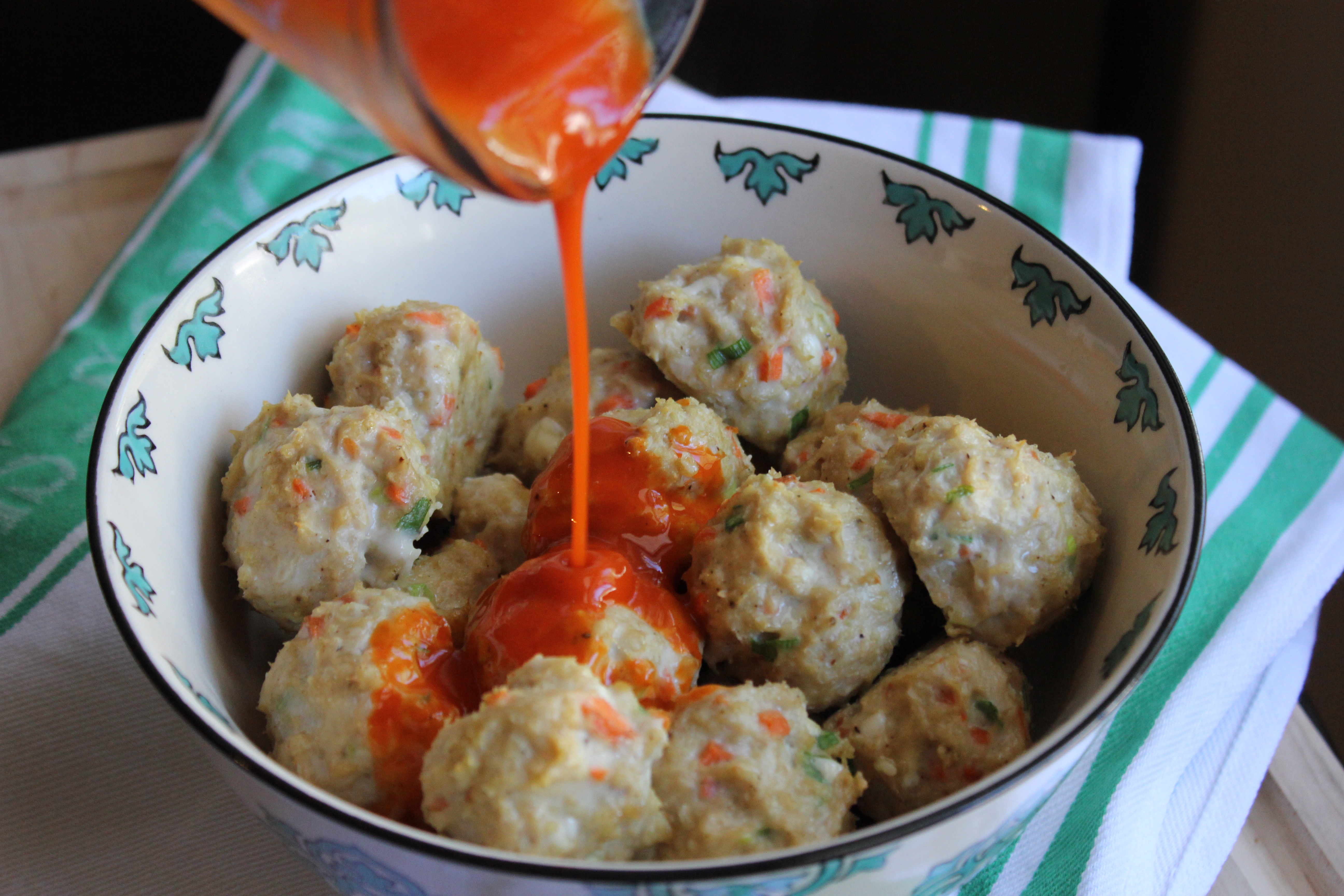 I actually need to give most of the recipe credit to Skinnytaste. I originally found the recipe on her website but I did change a few things (like omitting the celery, adding blue cheese crumbles and not using the dressing) but I did base my recipe off of hers so I don't want to take full credit for it. I honestly don't know how Gina (creater/owner of Skinnytaste) has come up with all of her recipes. I mean she must have hundreds.. maybe thousands!! They are all so good and so unique. It makes me so jealous! Which of course nowadays it's actually really challenging to come up with a recipe 100% on your own (meaning not even inspired by another recipe) since I feel like everything has already been thought of at this point.
For those of you wondering, by the way, the way I usually come up with recipes is I see a recipe or a dish that I think looks really good and I'll use that as inspiration to come up with my own version. I would NEVER completely copy a recipe and try to call it my own. If I do copy a recipe I make sure to note that and give the original person the credit. It's just the right thing to do. But the last recipe I came up with 100% on my own without even seeing another one that inspired it was the Pesto Spaghetti Squash and I was so proud of myself. Shortly after I posted it I went on Pinterest just for the heck of it to see if anyone else had come up with that recipe and low and behold someone had the EXACT recipe all the way down to the roasted cherry tomatoes!! That just goes to show how tough it is to have a recipe that is 100% yours. But I'm not complaining. I'm just happy to work on a hobby that I love and enjoy doing it and also be involved in a community that feels the same way.
Buffalo Blue Cheese Chicken Meatballs
2017-02-02 20:10:12
A delicious healthier alternative to buffalo wings that's sure to please everyone
Ingredients
1 pound ground chicken
1/4 cup panko bread crumbs
1 egg, lightly beaten
3 tablespoons chopped scallions (and more for garnish)
1/4 cup finely chopped carrots
1 clove garlic, minced
1/4 cup blue cheese crumbles (and more for garnish)
salt and pepper, to taste
1/3 cup Frank's Red Hot Buffalo Wing Sauce
Instructions
Preheat the oven to 400 degrees.
Grease a sheet pan and set aside.
Place the ground chicken in a large bowl and add the bread crumbs, egg, scallions, carrots, garlic, blue cheese crumbles and salt and pepper.
Mix everything together with your hands in the bowl until well combined.
Form the meatballs in our hands (about 1/8 cup for each meatball). You should get to 20 meatballs total. Place them evenly on the greased pan.
Bake for 18 minutes (until internal temperature reaches 165 degrees).
Place cooked meatballs in a bowl and add the hot sauce and combine until each meatball is covered in sauce.
Place meatballs on a serving dish and sprinkle with blue cheese crumbles and scallions. Enjoy hot.
http://www.afitkitchen.com/